Ariba Features
Ariba eases development and rapid prototyping of overlay-based services and applications. To this end, it provides mechanisms for creation and maintenance of communication links across heterogeneous networks, spontaneously providing an invariant virtual network substrate. The main features of Ariba include: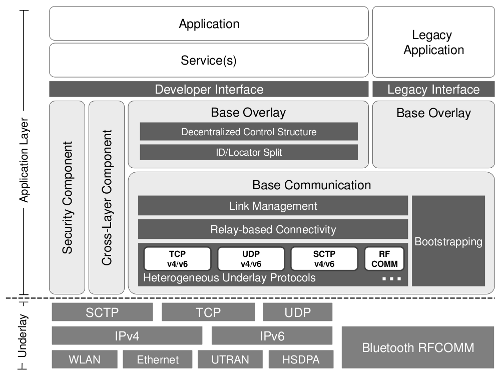 Self-organizing transport connectivity across different heterogeneous networks: Ariba does not require infrastructure support but uses a peer-to-peer approach for building up service overlay. Furthermore, ariba does can build such overlay over heterogeneous and otherwise unconnected networks, providing connectivity where communication would not be possible.
Integrated solution with ID-based addressing providing a virtual network per application context: Ariba provides a complete development environment where you can easily develop your services and applications. An overlay context is established per application instance, providing a natural separation of applications. All addressing is done through identifiers in ariba to release the developer from handling complex addressing types like different IP or MAC addresses.
Eases service and application development and deployment: Ariba allows you to kickstart your development for distributed services and application. No handling of sockets, threading, bootstrapping, overlay etc. ariba does it all for you to allow a rapid development.
Attachments
(1)
Download all attachments as: .zip